Christian-History.org does not receive any personally identifiable information from the search bar below.
The Suffering of the Holy Martyrs
Perpetua and Felicitas
Originally edited by Tertullian of Carthage, c. A.D. 200. Translated into English by Dr. Peter Holmes in 1868 for The Ante-Nicene Fathers, vol. III, American edition. Updated to modern English by myself (Paul Pavao).
Ad:
Our books consistently maintain 4-star and better ratings despite the occasional 1- and 2-star ratings from people angry because we have no respect for sacred cows.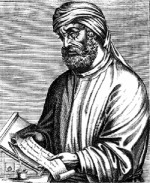 Tertullian at work
Chapter Five: The Martyrs' Faithfulness Through the Last Days (this page)
Chapter Five: The Martyrs' Faithfulness Through the Last Days
The above were the more eminent visions of the blessed martyrs Saturus and Perpetua themselves, which they themselves committed to writing.

Secundulus and Felicitas Long for Martyrdom
Longing for Martyrdom
This section sounds strange to our ears, who are not so used to martyrdom. What does it mean that Secundulus' soul was not grateful, but his flesh was?
Secundulus' flesh was grateful to avoid great suffering, but his soul, loving Christ as it did, would have preferred to be martyred in the arena.
But God called Secundulus, while he was yet in the prison, to an earlier exit from the world. This was not without favor, as it gave a respite to the beasts. Nevertheless, even if his soul did not acknowledge cause for thankfulness, assuredly his flesh did. (See side note.)
Respecting Felicitas (for to her also the Lord's favor approached in the same way): when she had already gone eight months with child (for she had been pregnant when she was apprehended), as the day of the exhibition was drawing near, she was in great grief lest on account of her pregnancy she should be delayed. Pregnant women are not allowed to be publicly punished. She feared that she would shed her sacred and guiltless blood among some who had been wicked subsequently.
In addition, her fellow-martyrs were painfully saddened at the thought that they should leave so excellent a friend and companion, alone in the path of the same hope [ed. note: the hope of martyrdom!]. Therefore they joined their united cry together and poured forth their prayer to the Lord three days before the exhibition. Immediately after their prayer her pains came upon her.
Felicitas Gives Birth
Felicitas was sorrowing in the difficulty of labor natural to an eight months' delivery, and one of the servants of the jailers said to her, "You who are in such suffering now, what will you do when you are thrown to the beasts, which you despised when you refused to sacrifice?"
She replied, "Now I alone suffer what I suffer; but then there will be another in me, who will suffer for me, because I also am about to suffer for him." Thus she brought forth a little girl, which a certain sister brought up as her daughter.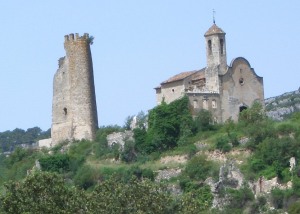 Santa Perpetua de Gaia commemorates
her faithfulness
(photo by Qllach at Wikimedia Commons
used with permission)
Others Testify of Perpetua's Faithfulness
The Holy Spirit permitted, and by permitting willed, that the proceedings of that exhibition should be committed to writing. Therefore, even though we are unworthy to complete the description of so great a glory, yet we obey as it were the command of the most blessed Perpetua—nay, her sacred trust—and add one more testimony concerning her constancy and loftiness of mind.
They were treated with more severity by the tribune, because it was suggested by certain deceitful men, that they might escape from the prison by some sort of magic incantations. Perpetua answered to his face, saying, "Why do you not at least permit us to be refreshed? Since we are objectionable to the most noble Cêsar, and have to fight on his birthday, is it not to your glory if we are brought forward fatter on that occasion?"
The tribune shuddered and blushed, then commanded that they should be kept with more humanity. Permission was given to their brethren and others to go in and be refreshed with them. Even the keeper of the prison trusted them himself now.
The Martyrs Testify to the Gathered Crowd
On the day before, in that last meal, which they call the free meal, they were partaking as far as they could, not of a free supper, but of an agape [i.e.; love feast or Lord's Supper]. With firmness they were uttering inspiring words to the people, denouncing against them the judgment of the Lord,
bearing witness to the happiness of their suffering and laughing at the curiosity of the people who came together.
Saturus, meanwhile, said, "Tomorrow is not enough for you, for you to behold with pleasure that which you hate? Friends today, enemies tomorrow! Yet note our faces diligently, so that you may recognize them on that day of judgment."
Then everyone left astonished, and from these things many believed.

This is an ad written by me, Paul Pavao
: I get a commission if you buy
Xero shoes
, which does not increase your cost. Barefoot running/walking is the best thing for your feet--if we did not walk on cement, asphalt, and gravel. Normal shoes compress your toes and do a lot of the work your lower leg muscles should be doing. Xero shoes are minimalist and let your toes spread and your feet do the work they are supposed to do. More info at the link.