Christian-History.org does not receive any personally identifiable information from the search bar below.
Martin Luther Quotes:
Quotes by and about Martin Luther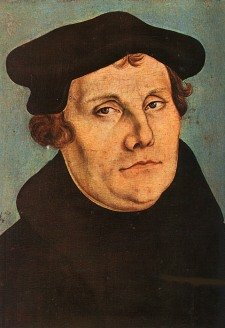 Martin Luther quotes are as incendiary as quotes get, whether made by him or about him.
I have divided these up into quotes about Martin Luther and quotes by Martin Luther. The ones that are directly by Luther are further broken up by date and by subject.
The reason for listing quotes by date is that Luther changed much over time.
Martin Luther was a fully committed Roman Catholic from the time he entered the monastery in 1505 at the age of 21 until he posted the 95 theses on the door of the Wittenberg cathedral in 1517, shortly before his 34th birthday.
Ad:
Our books consistently maintain 4-star and better ratings despite the occasional 1- and 2-star ratings from people angry because we have no respect for sacred cows.
Between 1517 and 1525 most of the major events of the Reformation occurred. Beginning with the Peasants War in 1525, his already vitriolic speech became occasionally completely unjustifiable. Personally, I wonder whether the intense stress of the Reformation combined with his many illnesses drove him to a less than mentally stable state.
The reason for breaking up the quotes by subject is apparent. I have kept the number of subjects minimal, but the following issues are important to those who care what Martin Luther believed, taught, and did.
Quotes from Martin Luther on many other subjects are in the dates section.
Martin Luther Quotes by Subject
---
This is an ad written by me, Paul Pavao
: I get a commission if you buy
Xero shoes
, which does not increase your cost. Barefoot running/walking is the best thing for your feet--if we did not walk on cement, asphalt, and gravel. Normal shoes compress your toes and do a lot of the work your lower leg muscles should be doing. Xero shoes are minimalist and let your toes spread and your feet do the work they are supposed to do. More info at the link.