Christian-History.org does not receive any personally identifiable information from the search bar below.
Martin Luther Quotes:
Quotes by and about Martin Luther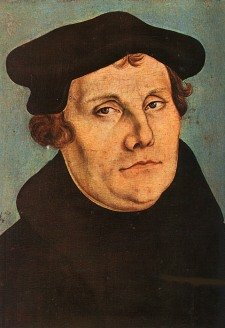 Martin Luther quotes are as incendiary as quotes get, whether made by him or about him.
I have divided these up into quotes about Martin Luther and quotes by Martin Luther. The ones that are directly by Luther are further broken up by date and by subject.
The reason for listing quotes by date is that Luther changed much over time.
Martin Luther was a fully committed Roman Catholic from the time he entered the monastery in 1505 at the age of 21 until he posted the 95 theses on the door of the Wittenberg cathedral in 1517, shortly before his 34th birthday.
Are you enjoying this site? We have several books with great reviews from readers. 
Decoding Nicea, Rome's Audacious Claim, Apostles' Gospel, and Grace by Paul Pavao
Forgotten Gospel by Matthew Bryan
The Promise by Megan Cupit
Slavery During the Revolutionary War by Esther Pavao
Read synopsis and reviews at https://www.rebuildingthefoundations.org. Available wherever books are sold!
Between 1517 and 1525 most of the major events of the Reformation occurred. Beginning with the Peasants War in 1525, his already vitriolic speech became occasionally completely unjustifiable. Personally, I wonder whether the intense stress of the Reformation combined with his many illnesses drove him to a less than mentally stable state.
The reason for breaking up the quotes by subject is apparent. I have kept the number of subjects minimal, but the following issues are important to those who care what Martin Luther believed, taught, and did.
Quotes from Martin Luther on many other subjects are in the dates section.
Martin Luther Quotes by Subject
---
My newest book, Rome's Audacious Claim, was released December 1. See synopsis and reviews on Amazon.