Quotes by Martin Luther on Predestination or "Bondage of the Will"
These are quotes from Martin Luther about predestination and free will. You may be surprised to know that he taught predestination before John Calvin and influenced him strongly.
Taking Aim at Rome's Audacious Claim is coming in September, but you could read one of our other books while you wait. Our new books and author page is up at RebuildingtheFoundations.org.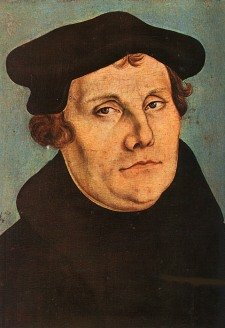 1531
The world advances free will, the rational and natural approach of good works, as the means of obtaining the forgiveness of sin. But it is impossible to gain peace of conscience by the methods and means of the world. (Commentary on Galatians)

Toys to Bless Your Grandchildren
The best way to support Christian History for Everyman is to buy things you want using a link from my site. My wife and I love buying educational or developmental toys for our grandchildren. I found a page with developmental toys at a great price Discount School Supply Cognitive Development & Fine Motor Link
. If you use this link will save you some money on gifts you would have bought anyway and support Christian History for Everyman without costing you a penny.