Christian-History.org does not receive any personally identifiable information from the search bar below.
Quotes by Martin Luther on Predestination or "Bondage of the Will"
These are quotes from Martin Luther about predestination and free will. You may be surprised to know that he taught predestination before John Calvin and influenced him strongly.
Ad:
My books and those Christian-history.org has published get great reviews. Synopses are at my Rebuilding the Foundations site. They are available wherever books are sold!
This site is also supported by Xero shoes because their shoes have relieved the arch pain I have had since leukemia. I wear the Mesa Trail model; it is the only model I've tried. Their shoes sell themselves.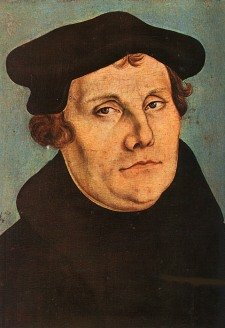 1531
The world advances free will, the rational and natural approach of good works, as the means of obtaining the forgiveness of sin. But it is impossible to gain peace of conscience by the methods and means of the world. (Commentary on Galatians)

This is an ad written by me, Paul Pavao
: I get a commission if you buy Xero shoes, which does not increase your cost. I am promoting them because
Xero shoes have relieved foot pain
I have had since leukemia. I wear the Mesa Trail shoes, and suspect I will be doing so for the rest of my life. My wife and oldest son wear Xero shoes as well. Read about them at the link.