Christian-History.org does not receive any personally identifiable information from the search bar below.
Quotes by Martin Luther on Sola Scriptura
Quotes by Martin Luther on sola Scriptura or "Scripture only." This is the teaching that we should reject tradition entirely and that all we need can be learned from the Bible.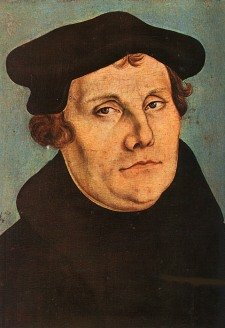 Philip Schaff, c. 1890
Luther was the bold pioneer of a higher criticism, which was indeed subjective and arbitrary, but, after all, a criticism of faith. He made his central doctrine of justification by faith the criterion of canonicity.23 He thus placed the material or subjective principle of Protestantism above the formal or objective principle, the truth above the witness of the truth, the doctrine of the gospel above the written Gospel, Christ above the Bible. Romanism, on the contrary, places the church above the Bible. But we must remember that Luther first learnt Christ from the Bible, and especially, from the Epistles of Paul, which furnished him the key for the understanding of the scheme of salvation. (History of the Christian Church, vol. VII, ch. I, sec. 9)
Ad:
My books and those Christian-history.org has published get great reviews. Synopses are at my Rebuilding the Foundations site. They are available wherever books are sold!
This site is also supported by Xero shoes because their shoes have relieved the arch pain I have had since leukemia. I wear the Mesa Trail model; it is the only model I've tried. Their shoes sell themselves.
This is an ad written by me, Paul Pavao
: I get a commission if you buy Xero shoes, which does not increase your cost. I am promoting them because
Xero shoes have relieved foot pain
I have had since leukemia. I wear the Mesa Trail shoes, and suspect I will be doing so for the rest of my life. My wife and oldest son wear Xero shoes as well. Read about them at the link.