Christian-History.org does not receive any personally identifiable information from the search bar below.
The History of Christianity: An Overview
The history of Christianity includes some vastly different eras. The two most significant events, as far as their affect on church history, are the marriage of mainline Christianity with the government of Rome under the reign of Constantine the Great and the Reformation, which ended the Middle Ages.
***z-dallas-style-google.shtml***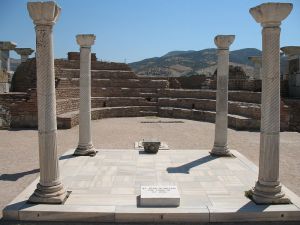 Tomb of John, the last apostle to die
There are seven different eras we will look at:
This section is meant to give you a complete overview of the history of Christianity in under an hour. In fact, I am relatively certain that all seven sections can be read in under half an hour.
Having a general understanding of the history of Christianity is a pleasure in itself; however, with this outline as a basis, you will also find remembering the specific stories in the other sections much easier.
***z-elad-style-google.shtml***