Christian-History.org does not receive any personally identifiable information from the search bar below.
Quotes About Worldliness
Quotes about worldliness from throughout Christian History.
Ad:
My books and those Christian-history.org has published get great reviews. Synopses are at my Rebuilding the Foundations site. They are available wherever books are sold!
This site is also supported by Xero shoes because their shoes have relieved the arch pain I have had since leukemia. I wear the Mesa Trail model; it is the only model I've tried. Their shoes sell themselves.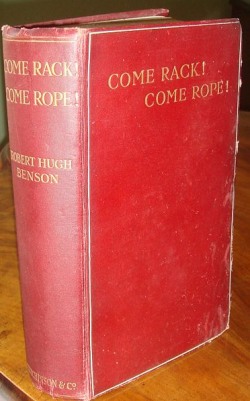 Come Rack Come Rope by Benson
Letter to Diognetus, A.D. 80 - 200
For the Christians are distinguished from other men neither by country, nor language, nor the customs which they observe. For they neither inhabit cities of their own, nor employ a peculiar form of speech, nor lead a life which is marked out by any singularity. … Following the customs of the natives in respect to clothing, food, and the rest of their ordinary conduct, they display to us their wonderful and confessedly striking method of life. They dwell in their own countries, but simply as sojourners. As citizens, they share in all things with others, and yet endure all things as if foreigners. (ch. 5)

This is an ad written by me, Paul Pavao
: I get a commission if you buy Xero shoes, which does not increase your cost. I am promoting them because
Xero shoes have relieved foot pain
I have had since leukemia. I wear the Mesa Trail shoes, and suspect I will be doing so for the rest of my life. My wife and oldest son wear Xero shoes as well. Read about them at the link.