Quotes About Prayers and Sacrifices for the Dead
Prayers and sacrifices for the dead are discussed from the earliest periods of Christian history.
Taking Aim at Rome's Audacious Claim is coming in September, but you could read one of our other books while you wait. Our new books and author page is up at RebuildingtheFoundations.org.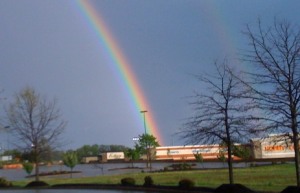 Rainbow over Jackson, Tennessee
Tertullian, c. A.D. 200
As often as the anniversary comes around, we make offerings for the dead as birthday honors. (De Corona 3)

Toys to Bless Your Grandchildren
The best way to support Christian History for Everyman is to buy things you want using a link from my site. My wife and I love buying educational or developmental toys for our grandchildren. I found a page with developmental toys at a great price Discount School Supply Cognitive Development & Fine Motor Link
. If you use this link will save you some money on gifts you would have bought anyway and support Christian History for Everyman without costing you a penny.