Christian-History.org does not receive any personally identifiable information from the search bar below.
Quotes About Prayers and Sacrifices for the Dead
Prayers and sacrifices for the dead are discussed from the earliest periods of Christian history.
Our books get a lot of praise. Here are some snippets:
"I really enjoyed this book ..."
"Really helpful."
"I never knew church history could be so much fun!"
"A marriage of exhaustive research with captivating writing."
You can buy our books wherever books are sold. See the list at Rebuilding the Foundations.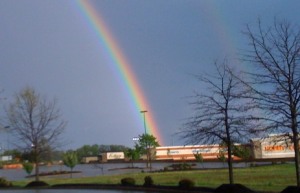 Rainbow over Jackson, Tennessee
Tertullian, c. A.D. 200
As often as the anniversary comes around, we make offerings for the dead as birthday honors. (De Corona 3)

My newest book, Rome's Audacious Claim, was released December 1. See synopsis and reviews on Amazon.