Christian-History.org does not receive any personally identifiable information from the search bar below.
Quotes About Hell
Quotes about Hell from throughout Christian History.
Our books get a lot of praise. Here are some snippets:
"I really enjoyed this book ..."
"Really helpful."
"I never knew church history could be so much fun!"
"A marriage of exhaustive research with captivating writing."
You can buy our books wherever books are sold. See the list at Rebuilding the Foundations.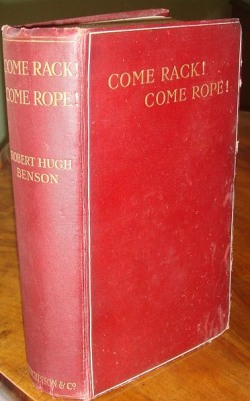 Come Rack Come Rope by Benson
Ignatius of Antioch, A.D. 110
Do not err, my brothers.  Those that corrupt families shall not inherit the kingdom of God. If, then, those who do this in regard to the flesh have suffered death, how much more shall this be the case with any one who corrupts by wicked doctrine the faith of God, for which Jesus Christ was crucified! Such a one becomes defiled and shall go away into everlasting fire. So shall every one that listens to him. (Letter to the Ephesians 16)
Letter to Diognetus, A.D. 80 - 200
Then you shall despise that which is considered to be death here, when thou shalt fear what is truly death: the one reserved for those who shall be condemned to the eternal fire, which shall afflict to the end those that are committed to it. (ch. 10)

I was a little surprised to find out recently (2014) that an idea called "conditionalism" or "conditional immortality" had gained such widespread acceptance. Conditionalism is the belief that immortality is conditional. The soul is not inherently immortal, but immortality is rewarded to the righteous only (cf. Rom. 2:6-7; 1 Cor. 15:53-54; 1 Tim. 16). The ramification of this is the doctrine that the unrighteous are destroyed in the lake of fire and perish rather than living forever in eternal torment. It's an idea I've held for a few years, but until this year I didn't know anyone else held to it except me and David Servant of Heaven's Family Ministries.  Apparently, we're quite Orthodox now. 
Books covering this are: Rethinking Hell: Readings in Evangelical Conditionalism by Christopher Date and Gregory Stump (Cascade Books, 2014) and The Fire that Consumes by Edward Fudge (Open Road Distribution, 2016). Fudge's book has led to an interesting movie called "Hell and Mr. Fudge."
Polycarp, AD 120-165
Justin Martyr, c. A.D. 155
Among us the prince of the wicked spirits is called the serpent, Satan, and the devil, as you can learn by looking into our writings. That he would be sent into the fire with his army and the men who follow him, and would be punished for an endless duration, Christ foretold. The reason God has delayed doing this is his regard for the human race. For he foreknows that some are to be saved by repentance, some even that are perhaps not yet born.
   In the beginning he made the human race with the power of thought and of choosing the truth and doing right. As a result, all men are without excuse before God, for they have been born rational and contemplative. (First Apology 28)
He shall come from heaven with glory, accompanied by His angelic host, when also He shall raise the bodies of all men who have lived, and shall clothe those of the worthy with immortality, and shall send those of the wicked, endued with eternal sensibility, into everlasting fire with the wicked devils. (First Apology 52)

But in truth I do not say that all souls die because that would truly be a a piece of good fortune for the evil! What then? The souls of the godly remain in a better place, while those of the unjust and wicked are in a worse, waiting for the time of judgment. Thus some who have appeared worthy of God never die, but others are punished so long as God will them to exist and be punished. (Dialogue with Trypho 5)

We pray for you [Jews] and all other men who hate us, so that you may repent along with us and not blaspheme the One who by his works, by the mighty deeds done through his name, by the words he taught, by the prophecies announced concerning him, is the blameless and irreproachable-in-all-things Christ Jesus. We pray that, believing on him, you may be saved in his second glorious coming and may not be condemned to fire by him. (Dialogue with Trypho 35)

At the second coming of Christ himself ... some are sent to be punished unceasingly into judgment and condemnation of fire, but others shall exist in freedom from suffering, from corruption, and from grief and in immortality. (Dialogue with Trypho 45)

Theophilus, A.D. 168
I do not disbelieve, but I believe, obedient to God, whom, if you please, you submit to as well, believing him, so that you do not wind up continuing in unbelief, then become convinced later, when you are tormented with eternal punishments. These punishments, when they were foretold by the prophets, were stolen by later-born poets and philosophers from the holy Scriptures to make their doctrines worthy of credit. Yet these also have spoken in advance of the punishments which are to light upon the profane and unbelieving so that no one will be left without a witness or be able to say, "We have not heard, nor have we known."
   But you, if you please, give reverent attention to the prophetic Scriptures, and they will make your way plainer for escaping the eternal punishments and obtaining the eternal prizes of God.
   For the One who gave the mouth for speech, formed the ear to hear, and made the eye to see will examine all things and will judge righteous judgment, rendering merited awards to each. "To those who by patiently continuing to do good seek immortality, he will give life everlasting, joy, peace, rest, and abundance of good things ... But to the unbelieving and despisers, who do not obey the truth but are obedient to unrighteousness ... there shall be anger and wrath, tribulation and anguish, and at the last everlasting fire shall possess such men.
   Since you said, "Show me your God," this is my God, and I counsel you to fear him and to trust him. (To Autolycus I:14)
Hermas, c. A.D. 170
The sinners shall be consumed because they sinned and did not repent, and the heathen shall be burned because they do not know him who created them. (Shepherd of Hermas. Similitude 4th.)

My newest book, Rome's Audacious Claim, was released December 1. See synopsis and reviews on Amazon.