Christian-History.org does not receive any personally identifiable information from the search bar below.
Quotes About Evangelism
Quotes about evangelism from throughout Christian History.
Ad:
Our books consistently maintain 4-star and better ratings despite the occasional 1- and 2-star ratings from people angry because we have no respect for sacred cows.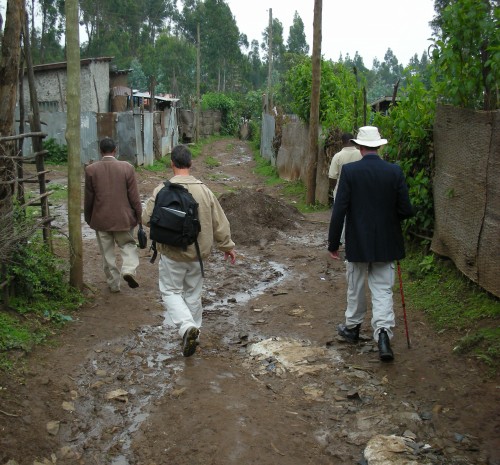 How beautiful are the feet of those who bring good news.
This is Ethiopia.
Ignatius of Antioch, A.D. 107 - 116
Pray without ceasing on behalf of everyone. For in them there is hope of repentance so that they may attain to God. Permit them, then, to be instructed by your works, if in no other way. Be meek in response to their wrath, humble in opposition to their boasting; to their blasphemies return your prayers; in contrast to their error be steadfast in the faith; and for their cruelty display your gentleness. While we take care not to imitate their conduct, let us be found their brothers in all true kindness. (Letter to the Ephesians 10)
Justin Martyr, c. A.D. 150
He has exhorted us to lead all men, by patience and gentleness, from shame and the love of evil. And this indeed is proved in the case of many who once were of your way of thinking, but have changed their violent and tyrannical disposition, being overcome either by the constancy which they have witnessed in their neighborsí lives, or by the extraordinary forbearance they have observed in their fellow travelers when defrauded, or by the honesty of those with whom they have transacted business. (First Apology 16)
If we persuade even a few, our gain will be very great; for, as good husbandmen, we shall receive the reward from the Master. (First Apology 44)
Clement of Alexandria, c. A.D. 190
Let us haste, let us run, my fellow men—us, who are God-loving and God-like images of the Word—let us haste, let us run, let us take his yoke, let us receive, to conduct us to immortality, the good charioteer of men. Let us love Christ. (Exhortation to the Heathen 12)
Hippolytus, c. AD 215
Those who are newly brought forward to hear the Word shall first be brought before the teachers at the house, before all the people enter. Then they will be questioned concerning the reason that they have come forward to the faith. Those who bring them will bear witness concerning them as to whether they are able to hear. They shall be questioned concerning their life and occupation, marriage status, and whether they are slave or free. If they are the slaves of any of the faithful, and if their masters permit them, they may hear the Word. If their masters do not bear witness that they are good, let them be rejected. If their masters are pagans, teach them to please their masters, so that there will be no blasphemy. (Apostolic Tradition 15:1-5)
Matthew Henry (d. 1714)
It is our duty not to not only hold fast, but to hold forth the Word of life; not only to hold fast for our own benefit, but to hold it forth for the benefit of others, to hold it forth as the candlestick holds forth the candle, which makes it appear to advantage all around, or as the luminaries of the heavens, which shed their influences far and wide. (unknown)

Robert Moffat (d. 1883)
I have seen, at different times, the smoke of a thousand villages—villages whose people are without Christ, without God, and without hope in the world.

D.L. Moody (d. 1899)
I like my way of doing evangelism better than your way of not doing evangelism.

E.M. Bounds, d. 1913
The evangelist who preaches for eternity is never great on numbers. He is not apt to count hundreds of converts where there is no restitution, no confession, and no glad cry which proclaims, "The lost is found, and the dead is made alive again!" (unknown)
H.A. Ironside (d. 1951)
God is not looking for brilliant men, is not depending upon eloquent men, is not shut up to the use of talented men in sending His Gospel out in the world. God is looking for the broken men who have judged themselves in the light of the Cross of Christ. When He wants anything done, He takes up men who have come to the end of themselves, whose confidence is not in themselves, but in God. (Thank you to John the Baptist TV, whose Revival List regularly provides great historical quotes. Please note that I do NOT endorse—in other words, I REJECT—MOST of what is on that email list except what's historical.)
A.W. Tozer, d. 1963
We are not diplomats but prophets, and our message is not a compromise but an ultimatum. (unknown)

Vince Havner, d. 1986
I know that some are always studying the meaning of the fourth toe of the right foot of some beast in prophecy and have never used either foot to go and bring men to Christ. I do not know who the 666 is in Revelation but I know the world is sick, sick, sick and the best way to speed the Lord's return is to win more souls for Him. (unknown)
Douglas A. Sweeney, 2005
Throughout most of Christian history, the gospel was spread more often than not by the territorial expansion of Christian nations—nations with legally "established" churches, the will to colonize foreign lands, and the audacity to Christianize their populations by force. (The American Evangelical Story: A History of the Movement [p. 61]. Grand Rapids, MI: Baker Academic.)
Unknown, modern
The soul and eternity of one man depends on the voice of another.

This is an ad written by me, Paul Pavao
: I get a commission if you buy
Xero shoes
, which does not increase your cost. Barefoot running/walking is the best thing for your feet--if we did not walk on cement, asphalt, and gravel. Normal shoes compress your toes and do a lot of the work your lower leg muscles should be doing. Xero shoes are minimalist and let your toes spread and your feet do the work they are supposed to do. More info at the link.