Christian-History.org does not receive any personally identifiable information from the search bar below.
Quotes About Early Church Traditions
Quotes about traditions of the early Church. You can decide whether they came from the apostles, as the early church often claimed
Ad:
An Amazon review of my Rome's Audacious Claim, available wherever books are sold: "This book presents, in my opinion, a definitive case against the papacy. Even better, Pavao presents this case in a clearheaded manner without falling into exaggerated polemics. I highly recommend this book and would encourage those in the RCC to read it and, if they are convinced Pavao's argument is wrong, provide an answer to this book."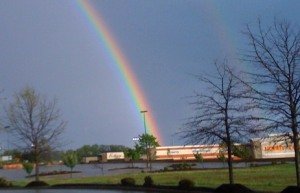 Rainbow over Jackson, Tn
Tertullian, c. A.D. 200
We count  fasting or kneeling  in worship on  the Lordís day  to be unlawful. [ed. note: Jesus rose on the Lord's day, so it was for rejoicing only.] We  rejoice  in  the same privilege also from Passover to Pentecost. We feel pained should any wine or bread, even though our own, be cast upon the ground.† At every forward step and movement, at every going in and out, when we put on our clothes and shoes, when we bathe, when we sit at table, when we light the lamps, on couch, on seat, in all the ordinary actions of daily life, we trace upon the forehead the sign [i.e., of the cross]. If, for these and other such rules, you insist upon having positive Scriptural injunction, you will find none. Tradition will be held forth to you as the originator of them, custom as their strengthener, and faith as their observer. You will perceive that reason will support tradition, custom, and faith, or you will learn from someone else who knows. Meanwhile, you will believe that there is some reasoning [behind these traditions] to which submission is due. (De Corona 3)
This is an ad written by me, Paul Pavao
: I get a commission if you buy
Xero shoes
, which does not increase your cost. Barefoot running/walking is the best thing for your feet--if we did not walk on cement, asphalt, and gravel. Normal shoes compress your toes and do a lot of the work your lower leg muscles should be doing. Xero shoes are minimalist and let your toes spread and your feet do the work they are supposed to do. More info at the link.