Christian-History.org does not receive any personally identifiable information from the search bar below.
Quotes About Early Church Traditions
Quotes about traditions of the early Church. You can decide whether they came from the apostles, as the early church often claimed
My book, Decoding Nicea, is averaging 4.1 stars on Amazon after 29 reviews. The praise includes:
My newest book, Rome's Audacious Claim is available for pre-sale on Amazon at $2.99. It will go up to $5.99 on December 1. The paperback is pre-sold at Barnes & Noble.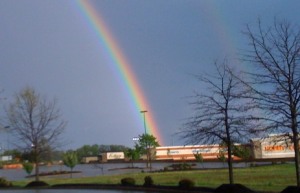 Rainbow over Jackson, Tn
Tertullian, c. A.D. 200
We count  fasting or kneeling  in worship on  the Lordís day  to be unlawful. [ed. note: Jesus rose on the Lord's day, so it was for rejoicing only.] We  rejoice  in  the same privilege also from Passover to Pentecost. We feel pained should any wine or bread, even though our own, be cast upon the ground.† At every forward step and movement, at every going in and out, when we put on our clothes and shoes, when we bathe, when we sit at table, when we light the lamps, on couch, on seat, in all the ordinary actions of daily life, we trace upon the forehead the sign [i.e., of the cross]. If, for these and other such rules, you insist upon having positive Scriptural injunction, you will find none. Tradition will be held forth to you as the originator of them, custom as their strengthener, and faith as their observer. You will perceive that reason will support tradition, custom, and faith, or you will learn from someone else who knows. Meanwhile, you will believe that there is some reasoning [behind these traditions] to which submission is due. (De Corona 3)
Tired of paying a thousand dollars for a new cell phone, when you could help a missionary feed 100 children for a week with that money?
Save up to 80% off and buy your next smart phone now! Only at Smarter-Phone.co!
I get a commission if you buy something at this link