Christian-History.org does not receive any personally identifiable information from the search bar below.
The Dead Sea Scrolls Version of Isaiah
(and Jeremiah)
Rumor has it that the Dead Sea Scrolls contained a copy of Isaiah exactly matching the Isaiah found in our modern Bibles.
Ad:
Our books consistently maintain 4-star and better ratings despite the occasional 1- and 2-star ratings from people angry because we have no respect for sacred cows.
The rumor's false.
Sorry.
The Isaiah Scroll Is Still Interesting!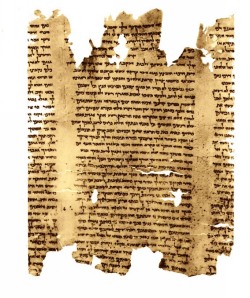 This is the real thing! A fragment of the Isaiah scroll
Note: I got this information from The International Standard Bible Encyclopedia, perhaps the most well-respected Bible encyclopedia there is.
It's true that there was a report in 1947 that the Qumran (the caves where the scrolls were found) text of Isaiah matched the Masoretic text. It was retracted, however, in 1948. That means we've been circulating a false rumor for over six decades. Ouch.
The scroll of Isaiah found at Qumran is a third text-type, matching neither the Septuagint (LXX) nor the Masoretic text. The Septuagint is a translation of the Hebrew Scriptures made over the course of a couple centuries just before the time of Christ.
All of this is not that significant. All three text-types differ only slightly.
It's Jeremiah that ought to catch our attention.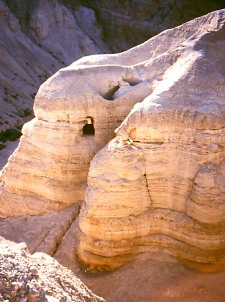 Qumran Caves, where the scrolls were found! Image from Wikimedia Commons by Grauesel and subject to this license
The Jeremiah Scroll
Among the Qumran texts was a scroll of Jeremiah. This is very significant because the LXX version of Jeremiah is seven chapters shorter than the Masoretic, and what remains is in a different order!
The Dead Sea Scrolls backs up the LXX version, not our Masoretic Bibles.
We western Christians may worry about that, but eastern Christians won't. Most Orthodox Christians use the LXX for their Old Testament.
This is an ad written by me, Paul Pavao
: I get a commission if you buy
Xero shoes
, which does not increase your cost. Barefoot running/walking is the best thing for your feet--if we did not walk on cement, asphalt, and gravel. Normal shoes compress your toes and do a lot of the work your lower leg muscles should be doing. Xero shoes are minimalist and let your toes spread and your feet do the work they are supposed to do. More info at the link.