Christian-History.org does not receive any personally identifiable information from the search bar below.
Build Your Own Website
Have you ever wanted to build your own website? Have you ever wanted to talk to people about things you care about?
If you have, and if you have ever actually tried, then let me guess … 
 … you have had one of the following two things happen to you.
Your site languished; you wrote and almost no one came
In order to make it work, you had to devote almost full-time to advertising on youtube, keeping up with the lastest information, and getting involved with sales that made you feel like a used car salesman.
Ad:
An Amazon review of my Rome's Audacious Claim, available wherever books are sold: "This book presents, in my opinion, a definitive case against the papacy. Even better, Pavao presents this case in a clearheaded manner without falling into exaggerated polemics. I highly recommend this book and would encourage those in the RCC to read it and, if they are convinced Pavao's argument is wrong, provide an answer to this book."
Don't Keep Banging Your Head Against a Wall!
Want to quit? I did.
Then Sitesell came along and offered to do it all for me.
Unlike many people I didn't wonder. I had studied enough to know they were doing everything right. I jumped in with both feet the first day.
Does it really work? Can you really build your own web site and have hundreds or thousands of people reading it? See for yourself.
What About Me?
It's working for me, too. Not just them. I used to dream of publishing a book. A Christian book that sells 25,000 copies is an excellent seller. A Christian history book that sells 10,000 copies would be amazing.
I've reached 15,098 unique individual people with this web site in 8 months.
The site is growing at about 30% per month, and I'll reach over 4,000 unique visitors this month. They've already paid more than 6,000 visits to my site in the 27 days of October, and they've looked at over 12,000 articles.
In one month!
Forget the book! Build your own web site!
What if You Can't Write?
I understand why you think that. Most of us have spent 12 years in school being taught to lose our ability to write.
You guessed it. Sitesell's got that under control, too. Hey, even if you don't want to build your own web site, their free ebook is worth the click. (No catches, not even an email address necessary. You don't need gimmicks when you've got the real thing.)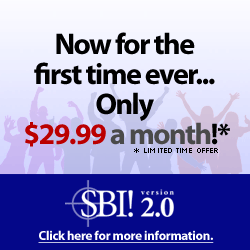 This is an ad written by me, Paul Pavao
: I get a commission if you buy
Xero shoes
, which does not increase your cost. Barefoot running/walking is the best thing for your feet--if we did not walk on cement, asphalt, and gravel. Normal shoes compress your toes and do a lot of the work your lower leg muscles should be doing. Xero shoes are minimalist and let your toes spread and your feet do the work they are supposed to do. More info at the link.