Christian-History.org does not receive any personally identifiable information from the search bar below.
Quotes About Being Born Again
Quotes on being born again—the new birth—from throughout Christian history.
Ad:
Our books consistently maintain 4-star and better ratings despite the occasional 1- and 2-star ratings from people angry about my kicking over sacred cows.
Rainbow over Jackson, Tn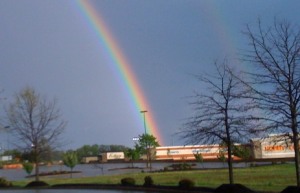 Justin, c. A.D. 155
I will also tell of the way we dedicated ourselves to God when we had been made new through Christ ... As many as are persuaded and believe that what we teach and say is true and undertake to be able to live accordingly are instructed to pray and to entreat God with fasting for the remission of their sins that are past. We pray and fast with them. Then they are brought by us to a place where there is water, and they are regenerated in the same way in which we ourselves were regenerated.
     For in the name of God, the Father and Lord of the univerese, and of our Savior Jesus Christ, and of the Holy Spirit, they then receive the washing with water. For Christ also said, "Unless you are born again, you shall not enter into the kingdom of heaven" [Jn. 3:3].
     Now it is apparent to everyone that it is impossible for those who have been born once to enter their mothers' wombs. How those who have sinned and repent shall escape their sins is declared by Isaiah the prophet ... He says this: "'Wash yourselves; make yourselves clean; put away the evil of your deeds from your souls; learn to do good; judge the fatherless; plead for the widow; and come and let us reason together,' says the Lord. 'And though your sins are like scarlet, I will make them white like wool. And though they are like crimson, I will make them as white as snow ...'" [Is. 1:16-19].
     The reason for this, which we have learned from the apostles, is the following: Since at our birth we were born without our own knowledge or choice ... and were brought up in bad habits and wicked training, so that we might not remain the children of necessity and ignorance, but may become the children of choice and knowledge and obtain in the water the remission of sins formerly committed, there is pronounced over the one who chooses to be born again, and has repented of his sins, the name of God the Father and Lord of the universe ... This washing is called illumination because those who learn these things are illuminated in their understandings. And in the name of Jesus Christ ... and in the name of the Holy Spirit ... he who is illuminated is washed. (First Apology 61)
Irenaeus, c. A.D. 185
The following quote needs a context. Irenaeus argues that Jesus lived to nearly fifty years old and ministered for 15 to 20 years. His view is unique to all of Christian history, as far as I know, though he refers to elders from the apostolic age who agreed with him. The fact that Irenaeus provides an argument at all is an indication that he knew that what he was saying was not a universal, nor perhaps even common, belief in the early churches. This quote is part of his general argument for an older age for Jesus.

For he came to save everyone by way of himself. By everyone I mean all those who are born again to God through him: infants, children, boys, youths, and old men. He therefore passed through every age, becoming an infant for infants and a child for children, thus sanctifying those who are of this age, and at the same time becoming an example of piety, righteousness, and submission for them. He was a youth for youths, becoming an example for youths and sanctifying them for the Lord. So likewise he was an old man for old men, so that he might be a perfect Master for everyone, not merely in regard to laying out the truth, but also in regard to age, sanctifying at the same time the aged as well and becoming an example to them likewise. Then, at last, he reached death itself, so that he might become "the firstborn from the dead, that in all things he might have the preeminence" [Col. 1:18], "the Prince of Life" [Acts 3:15], existing before everyone and going before everyone. (Against Heresies II:22:4)

Joseph Alleine, d. 1668
Conversion is not a repairing of the old building; but it takes all down, and erects a new structure. (unknown)
This is an ad written by me, Paul Pavao
: I get a commission if you buy
Xero shoes
, which does not increase your cost. Barefoot running/walking is the best thing for your feet--if we did not walk on cement, asphalt, and gravel. Normal shoes compress your toes and do a lot of the work your lower leg muscles should be doing. Xero shoes are minimalist and let your toes spread and your feet do the work they are supposed to do. More info at the link.