Quotes About the Antichrist
What has the Church historically believed about the Antichrist? Early church views are quite interesting!
Taking Aim at Rome's Audacious Claim is coming in September, but you could read one of our other books while you wait. Our new books and author page is up at RebuildingtheFoundations.org.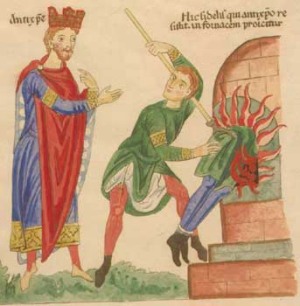 12th century Antichrist painting
Public domain
Irenaeus, c. A.D. 185
Some, in their inexperience, have ventured to seek out a name [for the Antichrist] which has the erroneous, spurious number [i.e., 616 rather than 666] … In the first place, it is a loss to wander from the truth, and to imagine that something is the case when it is not. In addition, there shall be no light punishment inflicted on those who add or subtract anything from Scripture … Another danger, by no means trifling, shall overtake those who falsely presume they know the name of Antichrist. For if these men assume one [number], when this one shall come having another, they will be easily led away by him. They will not recognize him as the expected one that must be guarded against. (Against Heresies V:XXX:1)

Toys to Bless Your Grandchildren
The best way to support Christian History for Everyman is to buy things you want using a link from my site. My wife and I love buying educational or developmental toys for our grandchildren. I found a page with developmental toys at a great price Discount School Supply Cognitive Development & Fine Motor Link
. If you use this link will save you some money on gifts you would have bought anyway and support Christian History for Everyman without costing you a penny.