Christian-History.org does not receive any personally identifiable information from the search bar below.
Quotes About the Antichrist
What has the Church historically believed about the Antichrist? Early church views are quite interesting!
Ad:
My books and those Christian-history.org has published get great reviews. Synopses are at my Rebuilding the Foundations site. They are available wherever books are sold!
This site is also supported by Xero shoes because their shoes have relieved the arch pain I have had since leukemia. I wear the Mesa Trail model; it is the only model I've tried. Their shoes sell themselves.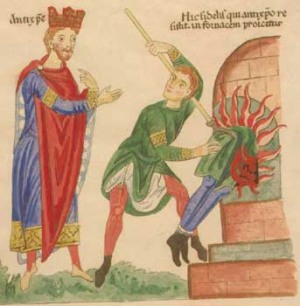 12th century Antichrist painting
Public domain
Irenaeus, c. A.D. 185
Some, in their inexperience, have ventured to seek out a name [for the Antichrist] which has the erroneous, spurious number [i.e., 616 rather than 666] … In the first place, it is a loss to wander from the truth, and to imagine that something is the case when it is not. In addition, there shall be no light punishment inflicted on those who add or subtract anything from Scripture … Another danger, by no means trifling, shall overtake those who falsely presume they know the name of Antichrist. For if these men assume one [number], when this one shall come having another, they will be easily led away by him. They will not recognize him as the expected one that must be guarded against. (Against Heresies V:XXX:1)

This is an ad written by me, Paul Pavao
: I get a commission if you buy Xero shoes, which does not increase your cost. I am promoting them because
Xero shoes have relieved foot pain
I have had since leukemia. I wear the Mesa Trail shoes, and suspect I will be doing so for the rest of my life. My wife and oldest son wear Xero shoes as well. Read about them at the link.