Christian-History.org does not receive any personally identifiable information from the search bar below.
Quotes About the Antichrist
What has the Church historically believed about the Antichrist? Early church views are quite interesting!
My book, Decoding Nicea, is averaging 4.1 stars on Amazon after 29 reviews. The praise includes:
My newest book, Rome's Audacious Claim is available for pre-sale on Amazon at $2.99. It will go up to $5.99 on December 1. The paperback is pre-sold at Barnes & Noble.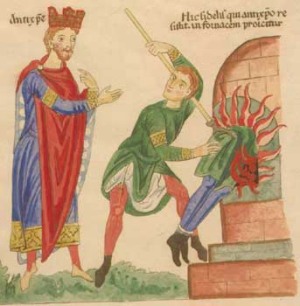 12th century Antichrist painting
Public domain
Irenaeus, c. A.D. 185
Some, in their inexperience, have ventured to seek out a name [for the Antichrist] which has the erroneous, spurious number [i.e., 616 rather than 666] … In the first place, it is a loss to wander from the truth, and to imagine that something is the case when it is not. In addition, there shall be no light punishment inflicted on those who add or subtract anything from Scripture … Another danger, by no means trifling, shall overtake those who falsely presume they know the name of Antichrist. For if these men assume one [number], when this one shall come having another, they will be easily led away by him. They will not recognize him as the expected one that must be guarded against. (Against Heresies V:XXX:1)

Tired of paying a thousand dollars for a new cell phone, when you could help a missionary feed 100 children for a week with that money?
Save up to 80% off and buy your next smart phone now! Only at Smarter-Phone.co!
I get a commission if you buy something at this link