Greatest Stories Ever Told 2013 Writing Contest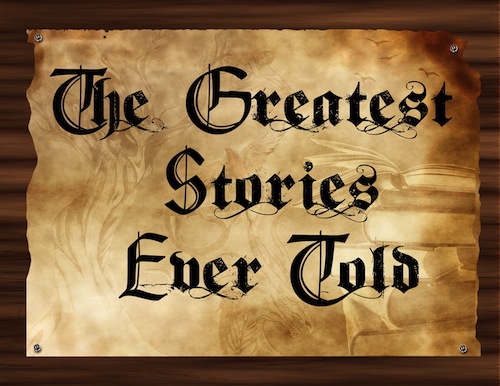 We've never done a writing contest before. We think the description below is comprehensive, but we appreciate your questions and input. I have entered writing contests on WritersDigest.com. I know our description below is more comprehensive than most, but I doubt it addresses all questions.
Contact us with any questions you may have. (Do not submit a manuscript with that link! Use the email address given below, and follow the submission procedures carefully!)
Rules
The contest is free. There is no charge for entry. (Future contests will not be free.)
Entries must be submitted or postmarked by October 1, 2013.
Entries must be in English, unpublished, and not submitted or accepted elsewhere at the time of submission. Greatest Stories Ever Told, the publisher, will have "first rights," which means that we must be the first to publish your work. All prizes will be forfeited if we discover that the entry has been published elsewhere.
Author keeps copyright.
Winner will be notified by December 1, 2013.
Prizes
One 7" Kindle Fire HD
Publication by Greatest Stories Ever Told
Five author copies of the book in trade paperback
The winner will be announced in the Early Church History Newsletter, on the Christian History for Everyman page on Facebook, and at Christian-history.org.
Permanent author page on Christian History for Everyman web site
Submission Guidelines
Email entries are preferred. Entries should be sent as an attachment to an email in .doc or .docx format. Text files (.txt or .rtf) are also acceptable. Double spaced is preferable.
The main body of the email should contain a one paragraph description of your entry, any qualifications or history you have as an author, and anything else you feel would be helpful to your chances. Please limit this email to one printed page, single-spaced.
Non-fiction or historical fiction original works are welcome. Must be your own work. (We are using the Historical Novel Society definition of "historical fiction." The work must be set more than 50 years in the past and be the product of the author's research, not personal experience.)
Entries should be between 10,000 and 70,000 words. Longer entries may be submitted with permission. Send permission requests to paul@christian-history.org.
Manuscripts sent by regular mail should be double-space and include a cover letter, no more than one page, single spaced with the same criteria specified for email entries. Send them to:

Greatest Stories Ever Told Writing Contest
4872 Hwy 64 East
Selmer, TN 38375
Mailed manuscripts will not be returned! Make sure you are sending a copy, not an original. If you would like to be notified that we have received your entry, please enclose a self-addressed, stamped envelope.
Make sure to include your name, address, phone number, and email address on your cover page or email! This is not so that we can market to you. It is so that we can contact you if you win.
Publication Guidelines
Greatest Stories Ever Told is an on-demand and ebook publisher. We will produce both a paperback copy and a Kindle version of the winning book or booklet. We distribute online only.
We will market the winning book on Christian-history.org, Amazon.com, and run at least one special on Bookbub.com. We market the winning entry on social networks. Bookbub.com specials require author permission because significant discounts are required.
Like all publishing companies, we enlist the help of authors in promoting their book, and we cannot promise any specific amount of sales. We provide marketing advice for the author, both verbal and written. The publisher also markets as described above.
We provide editing, cover design, and a blurb from Paul Pavao, author of In the Beginning Was the Logos and webmaster of Christian-history.org.
Author share of profit on book sales is 50%. The companies through whom we sell keep meticulous, online records of sales and profit that can be accessed by both the author and the publisher. Royalties will be paid to the publisher, and we will pay the author percentage within one week of our receipt of payment. Payments are usually once per month.
The profits will vary depending on the price charged for the book. The publisher will suggest a price, but the final decision will be the author's.
Upon publication, you will be able to market yourself as a published author.
Questions and Answers
What if my entry contains sections or chapters that I have published on my blog?
You can submit an entry that is a compilation of multiple posts that were published on your own blog. You cannot use any guest posts (posts written by others) in your submission. If you just just one blog post it can be something written by you that was published on your blog or elsewhere, but that that post must not be a significant portion of your entry. Let's set a guideline of no more than 10% of your entry can be a single blog post published on your blog or another blog.
Once again, multiple blog posts must be from your blog and combined into an entry. It cannot have been previously published anywhere in the combined form you are submitting.